Our Heroes

When most children hear the word 'Hero' they think of all the super heroes that comics, technology and movies have provided for the sake of entertainment (Batman, Spiderman, Superman, police or fire man…). The 'ILAI Fund' children constitute an entirely different breed of heroes – these are the Super Heroes of Life. They've endured difficulties that most people have never even imagined; they've lived with these difficulties always happy to wake up to another day of their grim reality; they bravely fight off one obstacle after another never giving up – These are the real heroes. Their heroism surpasses that of all the other super heroes that are a figment of someone's wild imagination.
Please, read more about some of our Heroes….
Hero, Hodaya
Meet Hodaya M., a special 6 year old girl who is always cheerful and positive, and loves people and learning.
Hodaya was born prematurely, and she weighed only 632 grams. She spent months in the hospital, fighting for her life. This affected her development, and today she has cerebral palsy and is considered 100% disabled. Hodaya does not walk by herself, and has to be helped with most basic tasks.
Her family turned to us recently with a request for help in purchasing a car that can be used to help Hodaya get to places she needs to be in such as treatment, school and outings. This will lift some of the burden and cheer her and her family up.
We were of course happy to help, and were able to, thanks to our generous donors.
Our dear Hero Hodaya, your positivity and fighting spirit inspires us every day. We love you ❤
Hero, Tova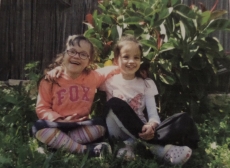 Meet our hero Tova, six and a half year old girl with Down syndrome.
Tova lights up the world with her positivity and cheers everyone up with her big smile! She is always the light of the party, and is able to cheer up even the saddest person. Her positivity and cheer are infectious!
She goes to hydro-therapy every week to help strengthen her muscles and improve her balance, and she's been doing really great at it. Unfortunately, the therapy is really expensive, far and not enough for Tova's needs.
Therefore, Tova's mother is looking for funds to buy a small pool for their yard to train with her at home. It would make a ton of difference for Tova and her family. We were of course more than happy to oblige and participate in this purchase.
Our dear Hero Tova, keep shining your happy light onto the world. We wish you success in therapy and in everything else!
Hero, Simha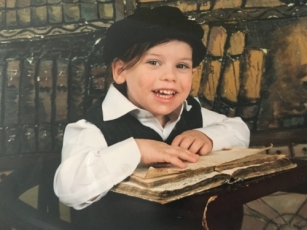 Meet Simha. In the photo you see a beautiful child but you do not know what is going on inside. You see a smiling face but you do not know the struggle behind it. Even his name, "Simha", means happiness.
And yet, Simha struggles to communicate with the world because of his hearing issues. His family hear, and he goes to a regular school. He lives in a world that demands of him to communicate in the way it communicates.
It was therefore very important for Simha's family to fit and purchase a hearing aid for Simha, as well as collect funds for and make sure that he succeeds at speech therapy.
The ILAI Fund prides itself on having welcomed Simha into its big family and helped him with the funds towards a suitable hearing aid and speech therapy. For this, we would like to THANK YOU the ILAI Fund Angels, whose donations have made it possible for us to support Simha's family in these expensive investments.
Today, Simha finds it much easier to communicate with the outside world, and we are so happy to see his smile!
Hero Tal M.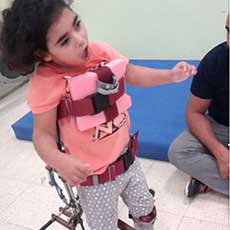 Yehudit is such a sweet 3 year old girl yet she was born with Cerebral palsy, a condition that makes it very difficult to go about your daily activities. It is very tough for this cute little girl to walk, eat, brush her teeth, and even to bathe. She walks very unsteadily and has muscle problems in all limbs. She gets around by crawling or by pushing a chair.
Yehudit could be 100% more mobile with a walker and a wheelchair. However the cost is prohibitive and out of reach for the family to purchase. Nonetheless, with the help of our angels, Yehudit's wheelchair became a reality and helps with her every day activities, those we all take for granted.
For this we would like to say a HUGE thank you to our donors for spreading your wings and helping us make this dream come true!
We're holding your hand Yehudit and were praying for a speedy recovery! God willing, as you grow up you will learn to do things by yourself with less and less help from the world around you. Good luck!
Hero Michal L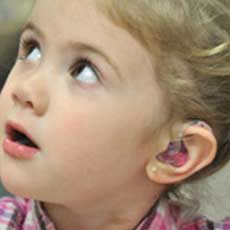 Our Hero Michal is a beautiful and extremely friendly young child. She is one of the bravest girls we know. Despite her difficulties, she is coping so beautifully and is always full of life and energy!
Michal was born with a hearing disability. Throughout her life she has had hearing and communication problems, and therefore it is very difficult for her in school. It is very tough for her as she doesn't hear what is going on around her therefore her family is in the process of funding a very expensive hearing aid that costs tens of thousands of Shekels. The ILAI Fund has therefore paid a significant part of this expense.
For this we would like to say a HUGE thank you to our donors for spreading your wings and helping us make this dream come true for Michal and her family!
Michal, we are praying for a speedy recovery and wish for you all the happiness and health in the world! We hope that the hearing aids help you feel more involved in school and make you feel like you're on top of the world. Goodluck! We love you.
Hero Ayala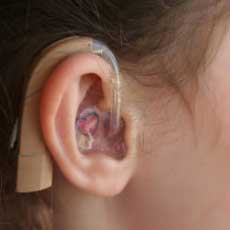 Ayala is a beautiful, smiley, and happy young 12.5 year old. She is one of the bravest girls we know. Despite her difficulties, she is coping so beautifully and is always full of life and energy!
Ayala is completely deaf in one ear as well as her other ear, which barely hears sounds. From the young age of 2 she has needed hearing aids. She's spent a lot of her life in the hospital in and out of expensive surgeries to try and fix the problem in her ears.
The Ilai Fund is proud to be part of this amazing family by providing Ayala with 20,000 shekel hearing aids and by supporting them for all their needs. From the time she received the hearing aids, Ayala's teachers and parents have said she has come a long way!
Ayala now has the privilege of hearing with the aids and has stopped hearing the white noise she was so used to hearing in her head every hour of every day. Thank G-d, Ayala speaks better, eats better, and overall is a happier child.
Thanks Ayala for giving us the privilege of helping and reminding us of our blessings! We hope you're successful in whatever you set your mind to! We are so proud of you!
Hero Ron D.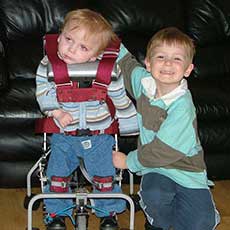 Little Ron is a very good looking 4 year old boy who was diagnosed at a very young age with P.D.D. Ron has severe developmental disabilities and due to this, it is difficult for him to interact and communicate. He has not yet developed enough natural speech to meet his daily communication needs. Despite his circumstances, Ron is a true hero who deals daily with the frustration of having the world misunderstand him.
Along with this, Ron has been very patient while waiting for his communication board and wheelchair. Due to high costs, it has been hard for the family to purchase these necessary items.
With thanks to our donating angels, the Ilai Fund was able to donate a considerable amount of money for the acquisition of Ron's expensive, custom-made wheelchair! With the stroller, it is apparent how much calmer and happier he is. It has ultimately helped him be more composed. It is so special to see his ability to control his frustrations. Kol hakavod!
Hero Meir F.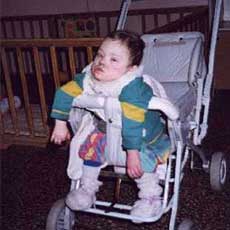 Meir is a 5 year old boy and is one of our strongest heroes! Despite his difficulties in speaking, it is very apparent how much light he shines onto the world. His will to fight and try to communicate is extremely inspiring. Meir was diagnosed with a very rare disease called Jacobsen Syndrome (only one in one hundred thousand people are born with this). He cannot speak and therefore it is very rare when we see him taking an interest in people around him or objects in the room.
The ILAI fund has helped Meir with all the therapies he needs in order for his life to be more pleasant.
Hero Chani G.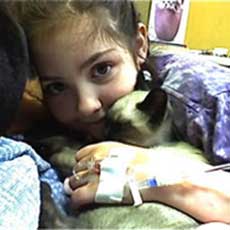 Chani is beautiful 8 year old girl and one of 7 children! She loves spending time with her family. Her devoted parents do everything with her .They take her on trips outside, help her with her daily needs at home, and make sure to keep her busy.
Chani has severe epilepsy, and has been experiencing cognitive and communicative delays for a very long time. Every type of treatment to try and stop her epileptic seizures has failed. As Chani is delayed cognitively she gets special therapy and treatment in the classroom. Her parents also work very hard to keep up the same teaching techniques at home.
Thank you to our devoted donors we are able to aid Chani with medication and treatments to help her!
Chani, we hope from the bottom of our hearts that you continue shining in all that you do! Keep up the good work!
Good luck and were praying for you every day- we love you!
Hero Alon H.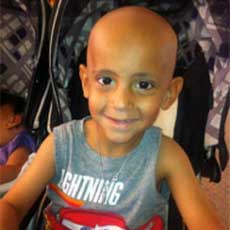 Alon is a sweet and 6 year old boy filled with life and smiles. Our Alon has a pure neshama, soul, that is very difficult to put into words but very easy to feel. He was diagnosed with epilepsy and has severe developmental delays that make it extremely hard for him to go about his day doing the simplest of things. For example, showering, bathing and brushing his teeth are all challenging for Alon. He has unstable shoulders due to his epilepsy and his handicap does not make it any easier!
Thank you to our heartfelt donors, the Ilai fund has been able to supply Alon with splints for his feet and has also paid for a custom made wheelchair!
Alon, we are praying for a speedy recovery and wish for you all the happiness and health in the world! We hope that the wheelchair helps you get around and makes you feel as if you a re on top of the world. Good luck! We love you.
Hero Alon S.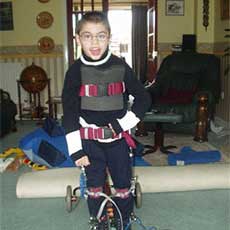 This is Alon, a wonderful and handsome 9 year old boy. He is a very determined young boy who learns in a special education school because of his communication problems. Although he has trouble talking, he is a pleasure to be around because when he smiles it can light up the whole room!
Alon suffers from epileptic seizures and has needed anti-epileptic medicine and a care-taker to take care of all of his needs since he was 4 years old. It is also very hard for Alon to breathe correctly.
All the medications and treatments he needs are very expensive and the Ilai fund is honored to be part of this journey to help Alon and his family with the care that they need.
You are a true hero Alon! We are holding your hand and we wish you luck every day in the hope that it only gets easier and easier!
Hero Moshe B.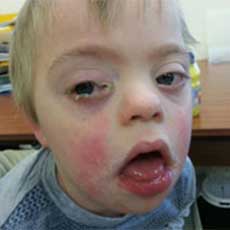 You may think that tzadikim only exist in agadot but I would like to introduce you to two special people who exist today.
After giving birth to many of their own healthy children, these two tzadikim adopted a 13 year old boy who was unfortunate and born with mental retardation. Together with his difficulties and tribulations, Moshe's parents love and care for him as if he were their own child.
Although Moshe turned 13, he was not obligated to be called up to the torah and have a bar mitzvah. His loving parents felt as if it was a requirement and decided to throw their dear Moshe a party to celebrate the milestone.
With thanks to our donating angels, the ILAI organization was thrilled to be part of such a beautiful mitzvah by helping Moshe fro his medical equipments and treatments and to feel loved by everyone.
Hero Lior L.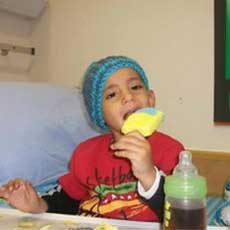 Lior is an adorable 6 year old boy with Crohn's disease. He is a very happy boy who loves being outdoors and listening to music with his friends.
Unfortunately, this disease affects parts of his gastrointestinal tract and causes him much discomfort. Due to this, Lior had a period of at least a year where he was hospitalized so that he could receive the correct treatment. In addition, Many of the hospitals ( Ichilov, Rambam, and Wolfson) are very far from home, which make it extremely difficult for his mother to come and be by his side.
Lior also had problems eating and therefore needed a feeding tube to help him gain weight and stay healthy. The only nutritional food that he can eat is very expensive to purchase. After the financial help from his health insurance, this special food for Lior still costs 1,000 shekels a month.
As he is in and out of hospitals and needs extra care, his mother wastes a lot of time and money running back and forth to be with him and was therefore forced to give up her job. In addition, Lior has 3 other siblings who need special emotional and psychological treatment because of the strain on the family.
Because of these high expenses, Lior's family relies on the kind of contributions from donors so they can continue paying for his treatments and special food.
Lior, we are praying for a speedy recovery and wish for you all the happiness and health in the world!
Hero Riad E.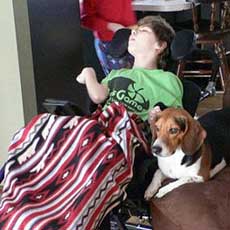 Our little Hero Riad is a smart 7 year old boy who suffered from slight brain damage when he was younger. This damage has ultimately caused him muscular difficulties and mental problems. Unfortunately Riad cannot speak, and often suffers from seizures. Because of the seizures, Riad needs to be under constant supervision to make sure that he doesn't cause damage to himself.
One of the things that his family has been desperate to purchase is a special bed suited for kids like Riad. This bed would be safe for Riad and allow his parents not to have to worry about him when he is sleeping.
Riad, hopefully soon you will be sleeping in your new bed and having sweet dreams!
Hero Tova L.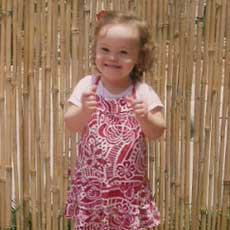 Meet Tova L., the cutest little girl with Down's Syndrome you will ever meet! Tova absolutely loves colors! She is an excitable and passionate little girl. Since her diagnoses at age 2, Tova's parents have done everything needed to help improve her condition.
Because of her unclear speech, Tova attends speech therapy weekly to improve her communication skills. There, she learned to use a special application in order to speak correctly. This is one of the only ways that Tova knows how to express herself.
Thanks to the Ilai Fund her mother was able to buy a special iPad for Tova that will help her with many therapies in order to continue learning.
With this new Ipad we hope Tova will only continue to grow more each and every day.
Hero Yocheved H.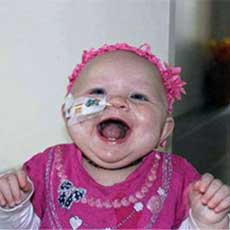 As a result of being born prematurely at only 26 weeks, 4 year old Yochi now suffers from severe developmental disabilities. Additionally, at night she needs the help of a respirator in order to breathe properly.
Although she needs help with many things, her smile and brightness radiate to those that surround her. Yochi always reminds you to be happy and to stay positive!
Because she is bound to a wheelchair, she wishes her family could purchase a special vehicle for mobility that would make getting around from place to place so much easier! Her expensive medication and special foods have been a large monetary burden on her parents and purchasing a new car hasn't been something they are able to afford.
Yochi - we dearly hope that soon your family will be able to drive you around in a new car waving to all your friends from the window!
Hero Tamar C.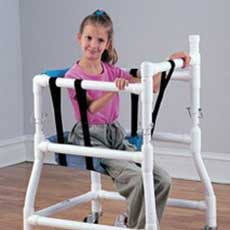 Tamar is an adorable 8 year old girl with Rett syndrome. This disability affects many parts of Tamar's body including neurological, muscular, and communicative functions. Like most children with Rett Syndrome, Tamar needs to be under constant supervision. She especially loves when her friends and family come to play with her.
Tamar needs monthly treatments that unfortunately amount to thousands of shekels each month. Additionally, the family purchased a bike that helps her communicate with other children and even allows her to go on trips. They also purchased a 30,000 shekel computer! In order to suit all of their daughter's needs, her family made the difficult economic decision to buy a ground level home just a few years ago.
Because of these high expenses, Tamar's family relies on the kind contributions from donors so they can continue paying for treatments and special equipment.
With all the donations to the Ilai Fund, beautiful girls like Tamar can be helped each day in order to make their lives so much easier.
Hero Elad O.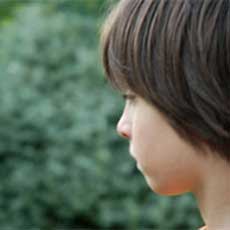 Elad is a cheerful and friendly 13 and a half year old boy. He was diagnosed at a young age with Autism and has been wheelchair bound ever since. Because of his delayed communication skills and cognitive disabilities, he needs the assistance of his wonderful friends and family to perform everyday functions.
Elad's lack of mobility has made him 100% dependent on his family. He attends Occupational Therapy where he works with unique computer games enabling him to play unaided with the program. Elad loves being independent and playing alone!
Thanks to our amazing donors, we were able to purchase Elad his very own iPad so that he could play at home all by himself!
Both Elad and his loving family members are so grateful for this amazing opportunity.
Elad - We wish for you that this is the only the beginning of great accomplishments and achievements for the future. Your determination to improve and get stronger every day is a true inspiration!
Hero Libby V.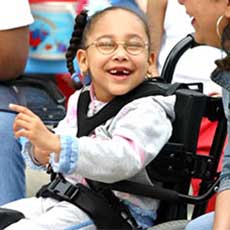 Libby is a strong 7 year old girl whose family love her dearly. She was diagnosed with Spina Bifida allowing her only limited mobility. Libby requires help functioning with all of her basic activities such as dressing, walking, and eating.
Libby often uses a walker, but the purchase of a wheelchair would be of great benefit to her. However a wheelchair of this kind costs 12,000 shekels and is very difficult for her family to afford. Yet another huge cost was the 50,000 dollar renovation spent on her family's single floor home in order to allow for wheelchair access. These renovations have put the family in debt which causes them extra hardships.
With thanks to the donating angels the ILAI family is proud to help Libby acquire the equipment she needs to help her have a higher quality of life!
Good luck darling Libby we love you!
Hero Yair A.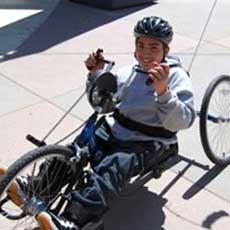 Our Hero Yair is such a sweet, good looking, 7 year old. He was born with Autism; a condition that makes it very difficult for him to go about his daily activities. Yair has delayed communication skills and cognitive disabilities; therefore, he needs the assistance of his wonderful friends and family to perform everyday functions.
Despite all these complications, it is beautiful to see how devoted his mother is to him. And it is incredible because she does it all alone with such deep affection!
The A.B.A communication program for Yair is extremely important for his development. However, the set of treatments is very expensive and difficult for his mother to afford. We thank our donors, who have made it possible for us to help. The ILAI fund is honored to be part of such a wonderful mitzvah in helping Yair and his mother with the care that they need.
You are a true hero Yair! We are so proud to see how much calmer you are after working so hard with the A.B.A program. Our wish for you is that it only gets easier and easier!
Hero Yitzchak K.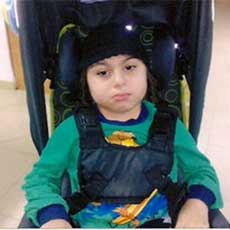 Yitzchak is a very handsome 7 year old boy who is loved by all who come into contact with him. Although he is almost completely blind, being surrounded by people is his happiest moment. He also enjoys therapy in the "Dark room" and his eyes follow the flashing lights that shine bright through the darkness.
When Ilai and his father went to meet little Yitzchak, it was the middle of a hot summer in Israel. They therefore, dressed for the weather and wore minimal clothing. On the other hand, Yitzchak, whose brain lacks the ability to tell the difference between hot and cold, was wearing socks on his feet, a scarf around his neck, and a hat on his head. Yitzchak also finds it hard to communicate with people and only when he is hungry can you tell that he is uneasy.
With all these complications, it is beautiful to see what a devoted mother she is. And don't forget, she does it all alone! She is a single mother with so much love and devotion for her son!
Despite his disabilities, you can clearly see how much neshama Yitzchak has- there was a big mass of energy filling the room!
We want to thank our donors who helped pay for a portion of the cost of the special custom-made 30,000 shekel wheelchair!
Also, his leg braces are extremely expensive and the cost of food is not covered by Yitzchak's health insurance. Thank you Yitzchak for helping us perform such a great Mitzvah and let us be part of your journey!
Dear brave Hero Yitzchak! We are so proud of your journey this far and we are praying for your health and happiness. We are all with you so be strong and brave! We love you.
Hero Dafna z.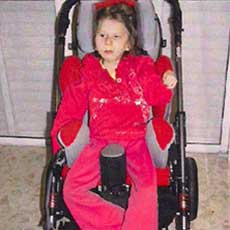 Dafna is a special and beautiful young girl who loves spending time outside listening to music. She also has the most contagious smile that can light up any room!
Dafna was diagnosed with cerebral palsy at birth and has needed help getting from place to place ever since. She has found it very hard to walk because her limbs don't function well. Due to her CP, she needs a wheelchair to help her at home and at school.
Thanks to our enthusiastic and dedicated donors, we are able to be part of a HUGE mitzvah that produced a 20,000 shekel custom-made wheelchair fit just for Dafna.
The wheelchair has enabled Dafna to smile, and cry a lot less!
Dafna, you have taught us determination and we thank you for letting us be part of your journey! We hope we can help in the future with new projects.
Hero, Amir Vaaknin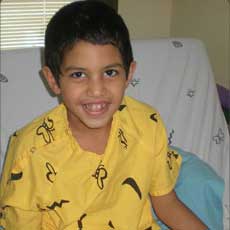 Our seven year old Amir is full of life and energy.
Amir likes to run jump and swim. He likes and enjoys playing basketball and soccer. He loves music and he loves learning. Amir is always full of hope.
The entire hospital staff is in love with him. How could they not be?
Amir is one of the bravest children we know! Despite the many hardships he faces, he's still coping beautifully.
Amir suffers from the chronic disease Hirsh pong, which affects his intestines.
So far, Amir went through 10 operations.
Amir's mother is a single mom. She is very devoted to her four children and is raising them with a lot of love. She is struggling on her own with the financial burden. Since Amir's condition deteriorated, she has had to quit her job.
Amir and his family are dealing with a financial crisis.
They need to purchase medical equipment at the cost of a few hundred shekel every month.
Every trip to the hospital costs approximately 500 shekel. The last time Amir was hospitalized, his mother had to hitchhike in order to get her son to the hospital!
Amir is struggling with an emotional crisis, as well.
His frequent hospital stays cause him to miss many school days and trips.
The 'Ilai Fund' was happy to give Amir a DVD Player in order to make him happy and to make his post-operation hospital stay easier for him. Amir also received many books and gifts, and in the very near future we will have the pleasure of presenting him with a brand new bicycle of his very own. In the next summer, the 'Ilai Fund' will send Amir for swimming lessons. We have also provided him with learning material to help him make up the schoolwork he missed. We are also helping his mother pay the transportation fees to and from the hospital.
Dear, brave Amir! We are so proud of you! You are coping beautifully with your many difficulties and you're so full of hope… We are praying for your health and happiness We can't wait to see you grow up big, strong and happy. Being the special person you are we know you'll grow up to be something outstanding… We are all with you, Amir. Be strong!
Hero, Daniel
Our wonderful Daniel is eight years old. He's a beautiful child, who loves to sing and play. He's an expert at computer games, and enjoys watching children's programs on TV. He loves his mother and younger brother very much.
It has been a real pleasure getting to know Daniel, for he radiates so much light and positive energy.
When Daniel was five years old, there were tumors found in his head. This condition causes him to have extremely painful headaches, to the extent that he's not able to fall asleep. This condition also causes psychological disorders.
Daniel has undergone 5 surgeries already!
Unfortunately, this disease causes the tumors to reappear, even after their removal, and not always in the same size or in the same place. Daniel is now recovering after his fifth surgery.
Although Daniel's mother really loved her job as a preschool teacher, she had no choice but to resign, because of Daniel's frequent hospital visits, which often stretch out over long periods of time.
The Ilai fund helps pay Daniel's travel expenses, and when need be, provides him with an ambulance. In addition, the Ilai Fund enables him to go for psychological counseling which helps him cope emotionally. We are happy to provide him with the means to receive acupuncture treatments, so that he could rest and fall asleep for a short period of time. Since Daniel is hospitalized for long periods of time, he misses a lot of school. The Ilai fund is happy to provide him with tutors and a computer. We have also been able to buy him a closet and a comfortable bed.
Dear Daniel! We hope and pray for your speedy recovery. We can't wait to see you going back to school happy and healthy. You will be a great man! We look forward to seeing your great accomplishments in life. Amen.
Hero, Maya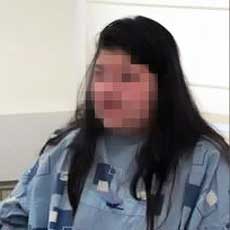 16 year old Maya has a special closeness to G-d. She prays very often and says the book of Psalms from beginning to end of daily chapter, every single day! Maya has a heart of gold. She is simply a gift to humanity. She likes listening to hassidic music and she likes dressing up.
When Maya was a year old, a cancerous tumor was found in her head. Our brave Maya had to undergo several very difficult operations. As a result of one of these operations an infection was caused in her brain. This causes her to gain a lot of weight no matter what or how much she eats.
Maya also suffers from headaches, thought disturbances, nervousness and impatience, and that is not even all of it…
Maya needs to go in to the hospital to be checked every month.
Maya's father was involved in a terrible car crash and has been severely handicapped ever since. Her mother is now the sole provider and caretaker of the entire family.
The Ilai Fund was able to provide Maya with a comfortable bed, a bookshelf and a computer. Before every holiday we provide her with budget for new books clothing and other basic necessities.
Maya, dear, we are with you every step of the way. We are praying for your speedy recovery. Please, darling! Pray for all of us as well…
We are sure that the future holds in store for you many good things. We are looking forward to watching you get married and becoming the wonderful mother you were destined to be…Amen.
Hero, Effie. R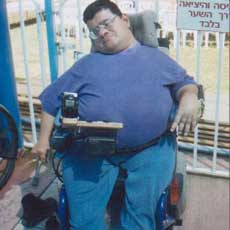 Effie is 22 years old. Our darling Effie is a super-hero. He has an amazing sense of humor. He is so funny! Effie is always listening to music, and He loves the life and living.
Our Effie suffers from INFANTILIO PARALYSI from birth. His speech is awkward; his arms and legs are paralyzed, and he is therefore wheelchair-bound. He is also considered legally blind. He requires constant care and supervision, every minute of every single day.
Effie lost his father in the war. His mother, who is not well either, needs to take care of his sister who is completely blind.
Effie lives in an apartment with other handicapped people. He requires all the basic things that every person needs and even more than that.
The Ilai Fund was able to provide Effie with the means to purchase electrical appliances, a bed and other necessary items.
We love you, Effie! We are holding your hand, dear super-hero of ours. We believe in you and we believe in your ability. There is no one like you in the whole world! You are so brave and so capable of putting up with difficult times. May G-d in heaven grant you a speedy recovery and may you succeed in all your endeavors. Amen.
Hero, Hava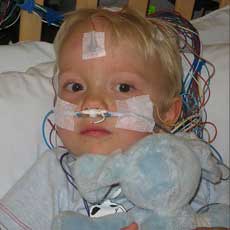 Our beautiful little Hava is two and a half years old.
Hava is such a charming child. She is so happy and full of smiles... She communicates with her surroundings beautifully! She claps her hands nods her head 'yes' and shakes her head 'no'. It makes us feel so good to see her sweet reactions to the slightest touch. She smiles to all the people around her. A real angel.
Hava's parents are healthy people. She is their only child. She suffers from a chronic condition of the liver, along with a Colesthetic didturbance as well as an over large liver. Her liver is so big that it has caused her stomach to grow tremendously. Hava suffers from severe pain and constant fever. She is behind in her development, especially in her motor development skills. During most of the day she is attached to an oxygen machine.
What Hava really needs is a liver transplant. However, the doctors do not recommend it, for they are afraid that she might not survive the procedure, Heaven forbid.
In the meantime, Hava has been sent home, to her house in the Golan Heights, in northern Israel. Home is a few hours away from the hospital, and now she only goes in from time to time for endless tests and checkups…
Our little girl requires special food, which is very expensive and her travel expenses and payments for medication seem to be endless…
Darling Hava! We love you, baby! We pray for you all the time. We can't wait to see you grow up big and strong. We are looking forward to the future when you will be strong and healthy. Amen.
Hero, Michael. H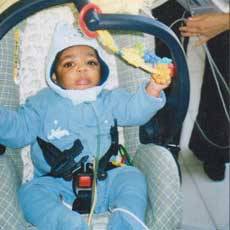 Michael is a sweet little 2 year old boy suffering from Pierre Robin Syndrome.
He is a sociable and highly communicative child who only recently returned home after spending the first two years of his life in a hospital ward. Even with his mother there at his side at all times, it could never be called home. With thanks to G-D he now lives at home and makes regular hospital visits so he can be monitored. Michael has two beautiful older sisters, 4 and 5 years old, who unfortunately also suffer from medical problems.
Michael is underdeveloped in many ways and only recently has begun to improve his gross motor skills; such as lifting his head, turning over, reaching out to an object and crawling etc. and his cognitive skills; such as understanding instructions, responding to his name being called and so forth.
Pierre Robin Syndrome is characterized in three ways; a very small lower jaw (micrognathia), a slit like hole in the palate of the mouth (cleft palate) and the tongue appearing to fall into the throat (retroglossoptosis) - the consequence of these being complications in breathing and feeding. Various options of surgery such as repair of the cleft palate, insertion of an ear tube, a respiratory tube, feeding tube and more are the accepted procedure in all cases.
Michael has a thin tube inserted through his neck to his wind pipe in order to aid respiration and drain out fluids. He is fed through another tube that has been inserted into his stomach via his abdomen. Only a very specific and very expensive food can be administered to Michael and we at 'ILAI Fund' give his parents the opportunity to provide the proper nourishment for their wonderful son.
Michael has two cute sisters Eden and Yael, other dears of 'Ilai Fund' who suffer from Down syndrome and Autism. Please learn more about his sisters in this page.
A boy like Michael cannot be taken on a bus or even by taxi and therefore it is our privilege to accommodate Michael with an organized and equipped vehicle to take him to and from his hospital visits and rehabilitation sessions.
We have no doubt that with the combination of our tear filled prayers and the advance in medicine, Michael will soon begin to feel well, start going to school, grow and learn and contribute to the world with his good deeds.
May it be G-D's will. Amen
Hero, Ohad Yehuda. M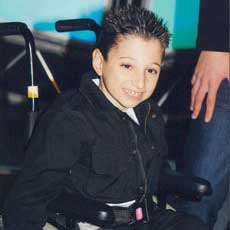 Thirteen year old Ohad is a vibrant young boy whose big smile captures his face. We can learn from Ohad how to enjoy and appreciate life despite serious health problems he endures. He looks younger than his age and is confined to a wheelchair.
Ohad lives with his mother, his brother who is serving in the IDF and his sister who is still at school.
Many tedious hours are spent traveling to a hospital in the North where Ohad receives medical care and rehabilitation treatments. The two sources of enjoyment in the life for Ohad are his connection with his friends and classmates through interactive television and Internet and playing at the play center in the hospital.
.
When Ohad was born a cancer tumor was discovered inside his spinal cord. This condition is known as CONGENITAL SPINAL FIBROSARCOMA. At the age of 5 weeks he underwent his first operation and his last treatment was in 1998. All together he has been through 12 series surgeries. Since then he is, Thank G-d, in remission. However, Ohad is now a paraplegic and is paralyzed from his waist down. In addition, Ohad has a liver disease which has caused a nerve disorder of the bladder.
We, at the 'ILAI Fund', pray to the Almighty for the speedy recovery of this beautiful child and hope to see Ohad playing and laughing together with his friends, grow into a young man and live his life to the fullest. Amen
Hero, Omer. B B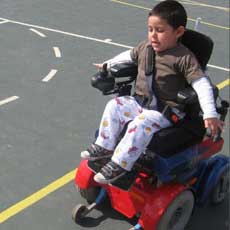 Omer is a wonderful 4 year old boy suffering from Spinal Muscular Atrophy Type 2.
Omer is a sweet boy, radiating love and warmth to those around him and in turn is loved by all who meet him. As a very clever boy, he knows many nursery rhymes by heart and most of all he loves going to preschool. Early in the morning you can find Omer eagerly preparing himself for his new day at preschool where he loves to learn new things and play with his friends.
Omer needs a lot of personal assistance, including a one-on-one caretaker, to make it possible for him to enjoy being part of a mainstream preschool with peers his own age. Unfortunately, the meager state budget allows Omer a caretaker at preschool for only two days of the 6 day week. The other 4 days are paid for by the 'ILAI Fund' with the intention of giving Omer the chance to develop and grow both mentally and socially as is natural for a boy his age.
Spinal Muscular Atrophy (SMA) is a genetic disease affecting the part of the nervous system that controls voluntary muscle movement. This disease entails the weakening and damaging of the voluntary muscles close to the center of the body which are responsible for gross motor skills such as crawling, walking, control of the head and neck and swallowing. Children afflicted with SMA as Omer is, can usually sit without support after being placed in a sitting position but cannot obtain this position independently. As the disease intensifies a child will need medical apparatus to enable him to stand. It is difficult to define exactly the rate of deterioration as it is expressed differently in every child.
Omer cannot move his arms and legs.
Omer has never played ball with his father, never blown bubbles and has never brushed his own teeth by himself. He cannot eat independently and requires a caretaker to be with him throughout the day. Every time Omer has to take care of his needs he must be accompanied by a parent or caretaker. Nonetheless, Omer sits in his wheelchair happy and joyful, emanating angelic rays of light. His smile is full of the divine energy of which his beautiful soul is made. Even in his difficult physical condition he manages to infuse those around him with happiness and hope.
We pray for the day to arrive when medical research can give conclusive results and thereby find a cure for SMA.We hope that with the help of G-D, Omer will become a healthy boy who can stand up on his own two feet and run to perform good deeds. Our dream is for Omer to grow up and marry the woman of his dreams and become the wonderful father that he has the potential to be.
May Hashem bestow His blessings upon you and keep you well. Amen.
Hero, Shooki . M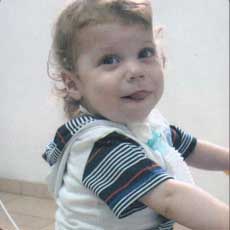 Little Shooki is almost two years old.
He is a sweet, friendly, happy, little boy.
Just like everyone else, Shooki also likes to go outside to play, and have a good time. Most of all he likes to be with his friends.
When little Shooki was born, the doctors told his parents that everything was OK.
But by the next morning, they discovered that things weren't as simple as they seemed…
Shooki spent a year and four months in the hospital!
He went through some very difficult times and times which were even harder than that. Thank G-d, he was able to leave the hospital, accompanied by an assortment of machines to keep him company.
Nowadays, he is attached to a machine that helps him breathe 24 hours a day. He also has a gastronome, through which he is fed 20 hours a day. He takes medications that help him breathe and grow, in other words, to live… He also undergoes various treatments, which are anything but fun…
Shooki's meetings with friends need to take place in an open area where there is less of a chance that he would get sick. The problem is that all of his medical equipment needs to go out with him as well... The price of a carriage that will be able to hold all of it is between 15 - 20 thousand NIS. Sadly, Shooki's parents cannot afford it. Especially since his mother had to quit her job so that she could take care of her son, and his father's paycheck is very low since he, too, stays home a lot to help take care of Shooki…
Don't worry, Shooki, We are here for you, helping you as much as we can, praying for you… We hope to see you, very soon, running outside on your own two feet, playing with your friends, running, jumping and having a good time outside… Amen.
Hero, Tehilah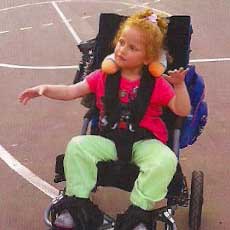 One of the heroes of the Ilai Fund is an enchanting little girl named Tehilah.
A cute girl, Tehilah is the daughter of a devoted and charming single mother who devotes all her energy to taking care of Tehilah and Tehilah's beautiful sister. It is not easy, but her mother is doing everything to provide Tehilah with a normal and loving environment.
Tehilah responds with warmth and affection when approached. She smiles when her hair is touched or her hands are held, and she enjoys the company of other children.
For us, Tehilah is a little angel who fell from heaven and clothed herself in the body of a girl with a host of special needs.
Tehilah is five years old. She is under regular care and evaluation due to severe-to-profound mental retardation, hypotonia and dysmorphic features.
Our little girl does not see well and she barely reacts to music. Only at age three and a half was she able to sit upright and she began crawling just two months ago. Now, at five years old, Tehilah can pull herself up to a standing position. She understands familiar situations and interactions (such as, 'Where is the bottle?' and the like), and she waves her hands when she hears a song she recognizes.
Our Tehilah is still in diapers. She doesn't eat on her own and is completely dependent on an adult for all things. She needs constant physiotherapy and hydrotherapy treatments.
Every day, Tehilah requires the accompaniment of a caregiver. She also needs a speech therapist during the day and many other costly treatments. But Tehilah's mother is not giving up and is doing all she can for her daughter.
The Ilai Fund is assisting them in every possible way, in order to ease their daily burden, even if just a bit. We love Tehilah and we will always be there for her.
May we merit a grand miracle and see Tehilah healthy and whole. Amen!
Hero, Lior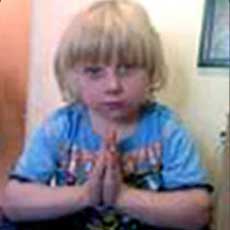 Lior is a wonderful six-year-old boy.
Lior is a born hero. He was brave and strong from the very beginning. Lior was born during the 32nd week of pregnancy. His weight at birth was no more than 3.828 pounds, and so he was put in an incubator.
A wonderful family adopted Lior right after he was born.
Our precious Lior suffers from Autism.
He suffers from repeated convulsions as well as periods when he becomes very short of breath. As such, he needs an inhalator to help his breathing get back to normal. Our baby also has a skin condition called Atopic Dermatitis, which causes dry rashes and itchiness.
Lior also has a heart deformity, ASD PDA AORTIC STENOSIS CONGENITAL. He needs to go for periodical checkups at the Heart Center.
Owing to his slow development and over large head circumference measurements, Lior's condition was thoroughly checked and diagnosed and he had to undergo many tests.
His test results showed that he had PVL I COMPENSTED HYDROCEPHALUSS in his head. There are changes taking place in the white substance in his mind.
As a result of the fact that Lior was born a premature baby, he suffers from an eye condition called NYSTAGMUS. His test results have also shown that he suffers from DIASTASIS RECTI. Lior also has ALBINISM, and owing to the lack of pigment, which causes lack of hair and skin color, he needs to be checked periodically by a neurologist and an eye doctor.
Lior needs to visit many doctors. He has to take many different kinds of medicine and undergo several treatments.
In the past two years, our Lior attends a mainstream kindergarten. But because of his special condition he requires a full time assistant to be with him at all times.
We are all with you, Lior. We're holding your hand and praying for you. We love you so very much. We hope and pray, that very soon you will start feeling better and that our Merciful Father in heaven will grant you a Refuah Shleimah, a speedy recovery, very soon. Amen.
Hero, Dianna. B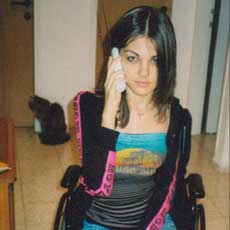 Dianna is a pure angel.
She is one of the most beautiful girls in the world.
Dianna is an emigrant from Ukraine.
She came to Israel with her mother and they live in Carmiel, a beautiful city in north Israel.
Dianna is a computer genius and despite her disabilities she has the best grades at her school. She plays guitar and piano. She knows different languages and is the biggest sweetheart in the world.
Dianna is so full of faith and is so positive. Dianna never complains, Dianna smiles every time you see her, and it is such a privilege just knowing her.
Our little angel Dianna is not able to walk or stand up by herself. Dianna is paralyzed and relies on a wheel chair that takes her almost everywhere.
Her loving mother is the only person in the world that she has. She is such a wonderful loving Mom and is entirely devoted to working, surviving and serving our little Diana. Dianna's mother, suffers from different weakness, we wish her mother fast cure and pray for her health.
Dianna suffers from endless pains in her bones all over her body and has to be hospitalized from time to time for different reasons.
Dianna has a dream to join the Israeli army and serve our country like any other girl in Israel.
ILAI Fund has the privilege to supply Dianna with vitamins, drugs and hydrotropic treatments, and try to be there for her in additional cases. We do everything we possibly can to help our princes, Dianna, to live a better and easier life.
You might not know how much, but we love you so much, Dianna.
We pray for you, darling so that all your dreams come true.
We believe some day very soon to see you standing, walking and jumping on your own two feet, finding your lovely prince, getting married and having children and living a healthy and happy life. Amen.
Hero, Omer. KH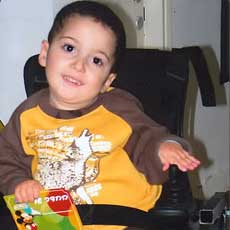 Our special Omer is a four-year-old boy.
In the ILAI Fund Family we have two boys named Omer, both are four years old, both are very dear to us, both suffer from Spinal Muscular Atrophy Type 2, and both are 100% handicapped.
Omer is the sweetest child in the world, a beautiful little boy who is full of life and laughter. Omer is a very intelligent boy, smart, and extremely capable. He looks forward to going to preschool every day. He loves his two brothers, who are both healthy, thank G-d.
Omer was never able to feed himself with a fork and knife. He has no idea what it feels like to stand up or sit down. He has never, not once in his life, kicked a ball.
Omer needs a lot of personal assistance, including a one-on-one caretaker, to make it possible for him to enjoy being part of a mainstream preschool with children his own age. Unfortunately, the meager state budget allows Omer a caretaker at preschool for only two days of the 6-day week. The other 4 days are paid for by the ILAI Fund with the intention of giving Omer the chance to develop and grow both mentally and socially as is natural for a boy his age.
Spinal Muscular Atrophy (SMA) is a genetic disease affecting the part of the nervous system that controls voluntary muscle movement. This disease entails the weakening and damaging of the voluntary muscles close to the center of the body which are responsible for gross motor skills such as crawling, walking, control of the head and neck and swallowing. Children afflicted with SMA as Omer is can usually sit without support after being placed in a sitting position but cannot obtain this position independently. As the disease intensifies a child will need medical apparatus to enable him to stand. It is difficult to define exactly the rate of deterioration as it is expressed differently in every child.
The ILAI Fund was happy to help out in the purchase of a wheelchair especially for Omer. The price of this wheelchair was over 20,000 NIS. In addition, the Fund has provided him with Bracts corsets that help him 'stand up' and 'sit down'.
We pray and look forward to the day when the world of medicine will be able to provide us with final results, and so be able to find a cure for the SMA disease. G-d willing, Omer will be able to stand on his own two feet soon. He will be healthy and strong. The day will come when we will see Omer a devoted, loving father as only he could be. Amen.
Hero, Oriya Sh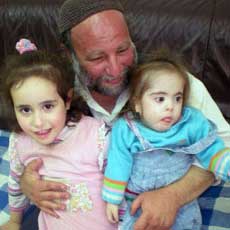 Oriya is three years old but she is very tiny and weighs as much as a new born baby. She smiles when we talk to her and responds to music and the voices of her family members. Oriya suffers from Down syndrome and Radical FTT. Oriya has a six year old brother Avraham and a five year old sister Miryam. Both her siblings suffer from epilepsy, they do not communicate well and need special care, therapies and treatments. They live in a very simple little apartment in Emanuel.
Recently, they lost their father Mordechay, a devoted hard working man. Their mother now is the only one in the world to care for these three unfortunate children with special needs.
Oriya is connected to a nasogastric or an orogastric tube as this is the only way she can breathe and eat.
Their recently widowed and newly single mother is now facing a very hard and challenging life. She has to support her three ill children with monumental expenses for special nutrition, disposable diapers, medicines, and transportation to doctors and hospitals.
The ILAI Fund is proud to be a part of this amazing family by providing both Avraham and Miryam with speech therapy and attendance at a special school and by supporting Oriya for all her needs.
We love and thank these three children for giving us the opportunity, to turn some of their tears into smiles. We believe their father Mordchay is watching what we are doing for his three children and is happy that we are here. May the God of Israel bless these three little children with health, wealth and a good future. Amen!
Hero, Yael. H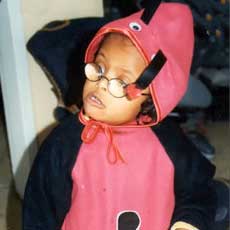 Yael is a cute, darling 5 year old little girl. She is energetic and charming.
Yael's parents are emigrants from Ethiopia. A hard working wonderful couple that has to take care of three children - each one with a different illness. Despite all this they never complain, they love their children and care for them very much.
Our little princess Yael suffers from Down Syndrome. Yael has slanted eyes, poor muscle tone and control, and a mentally low level of learning, understanding and communication.
Yael needs special care and treatment. Her educational programs are more complicated than any other regular child.
Her eye glasses are so expensive and she unfortunately looses them and breaks them very often.
This is just a part of what she needs and that is when the ILAI Fund shows up to be there and help little Yael and the dear family.
Yael's brother Michael is also one of the ILAI Fund children as well as her sister Eden, who suffer from different illness and syndromes and are under treatment. The ILAI Fund helps the family for these two children as well.
Charming Yael loves to play and watch kids' TV programs. We are trying to get her a computer very soon, to help her with her education.
We love you Yael, you are so wonderful.
We believe that our little baby girl will soon get better and better. There will be a day when we see her as a beautiful young lady; she will get married and become a good mother. Amen
Hero, Yitzchak. SH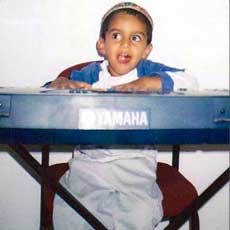 Yitzchak is only 8 years old. He is very intelligent ant mature for his age.
Yitzchak was born to his parents after 18 years of heartfelt prayers, and is therefore more precious to his devoted parents than one can imagine. With beautiful brown eyes that radiate calm and serenity, he sparkles with light and energy. We at ILAI Fund had the great privilege to meet Yitzchak. He has been blessed with a wonderful talent in art and is an outstanding artist with his own unique style and only recently it has been discovered that he has musical abilities too. He plays proficiently on the Piano, Organ, Drums and Darbuka.
Our precious Yitzchak suffers from Spinal Muscular Atrophy Type 2 (SMA). This causes him great difficulty in walking, yet it does not prevent him from going to his swimming lessons every week and even winning competitions!
A sweet and cheerful boy filled with self confidence and an optimistic view of the world. He greets each new day with a smile and manages to overcome his limitations and succeed as each challenge confronts him anew.
Our Yitzchak has a good and pure soul, something that may be difficult to explain but very simple to feel. As friends of Yitzchak, we at ILAI Fund fervently pray that the day will arrive when advancements in medicine will give us the ability to combat the degenerative SMA. Then, this wonderful boy will be able to stand up and begin to walk on his own two feet, maybe even run and kick a ball with his friends.
We believe that Yitzchak will grow up to be a handsome and kind man, an excellent father devoted to his children and we know, with a full heart, that he will want to help and support other children like himself.
This Young Child will become a Great Man.
We wish Yitzchak a complete and speedy recovery.
Amen