Published by Jewish Link 3.2.14

In a small family apartment high atop the Israeli city of Modiin, a husband and wife sit together as they pore over a thick black binder bursting with photos and medical records of sick Israeli children.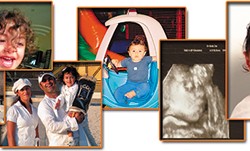 How Can You Choose Just One?
By Dena Wimpfheimer | April 03, 2014
In a small family apartment high atop the Israeli city of Modiin, a husband and wife sit together as they pore over a thick black binder bursting with photos and medical records of sick Israeli children. Each file contains photos, medical reports and handwritten notes about therapy, equipment and treatments. On the table next to them are four more envelopes received in the mail that morning. Looking at them, you wouldn't think that Albert and Yael Shaltiel would be the address for hundreds of requests for medical support a year, unless you know their story.
Born in Tehran, Iran just prior to the onset of the Iranian Revolution, Shaltiel describes his early years as peaceful and tranquil. But following the revolution, the environment became one of fear and violence. Albert escaped from Iran (his second attempt—the first ended with jail time and torture) at age 16 followed by two months of fear-filled travel through the mountains and valleys of Pakistan and Afghanistan. Eventually he made it to the freedom of Vienna and from there was able to secure safe passage to the Iranian community in Los Angeles.
Thirteen years later he realized his lifelong dream of coming home to Israel and shortly thereafter met his wife Yael.
After struggling for years with unsuccessful fertility treatments, Albert and Yael thought about adoption. "How can you choose just one child, when you know that there are so many that need you," he recalls thinking. They decided that if they weren't able to have children of their own they would "adopt the problems" of many and work towards making their lives better.
The couple made the effort to get acquainted with Israeli hospitals, social workers and various communal organizations that worked with children. With the generous support of donors from around the world—including the Ben and Bita Nehmadi, whom Albert and Yael will be honoring next month for their years of generosity and support—they started distributing money towards medical equipment and therapies for children in need. "Since a very young age, we have tried to live our lives according to the tenet love your neighbor as yourself," said Albert. "In fact, the Jewish hospital where Yael and I were born in Tehran had this phrase inscribed on the entrance. We often think what if it was our child who was sick and needed help and that gives us the drive to push forward and work hard on behalf of all of these children."
Then, in what Albert and Yael can only describe as possible merit for their work with the children, "God opened up the gates of Heaven and we found out that Yael was pregnant".
When their son Ilai was born in 2005, the Shaltiels officially established the Ilai Fund in his name. "We wanted to be sure we always care for all the children as much as we care for our only child," said Albert. "In naming it The Ilai Fund, we remind ourselves each and every day that these children are like our own and we experience the pain and joys together with them."
Since then, the Fund has grown and Albert and Yael do everything in their power to avoid saying no to those in need. Together with Ilai, they meet with each child to see how their help will be most worthwhile—whether it is paying for a piece of equipment, a type of therapy treatment, or for some, just a recreational activity to bring joy and healing. Keeping their overhead low, their dining room table serves as the base of operations where they proudly show off their stuffed black binders full of files detailing their many children, or as they refer to them, the Ilai Fund Heroes.
Most of the children helped by the Fund come from single parent homes. "My father died when I was young and my siblings and I grew up with just a mother," said Yael. "I know how hard it can be when there is only one parent and we want to try and help those families who have to work even harder to care for a sick child even more."
Albert continues to speak with the vision of a man who realizes he can do so much more. When his phone rings, he reacts with excitement when he identifies the caller as a social worker who heard about the Fund and needs some help.
"Albert and Yael are people who are doing God's work but quietly and humbly and it is a true honor to be involved with their efforts," says Mr. Nehmadi, CEO and managing principal of Republic Investment Group. "Given Albert's incredible background and his ability to work so hard, I know that when I support this Fund it will definitely lead to better lives for all involved."
By Dena Wimpfheimer