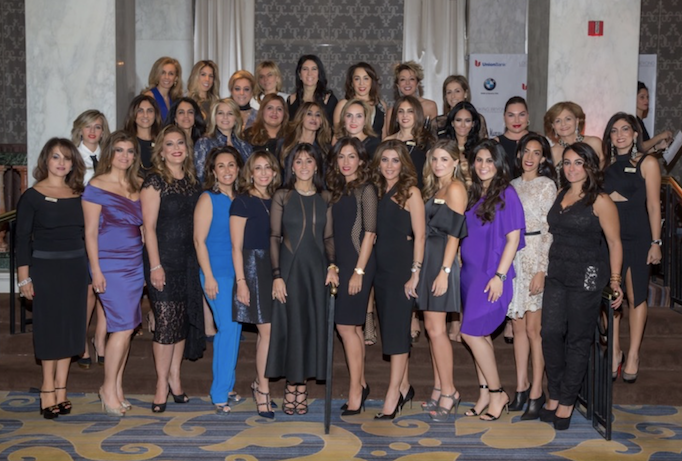 Congratulations to our 2018 Best Donating Angels of the year, Looking Beyond LA!
The ILAI Fund and the ladies of Looking Beyond LA have been collaborating for a few years. Looking Beyond is dedicated to enriching the lives of children and young adults with special needs. And that is exactly what our goal is at the ILAI Fund too! It has therefore been a very fruitful friendship.
In 2018 alone, Looking Beyond has supported 30 organisations, fundraising and then contributing $300,000! Some of this huge sum has reached the children here at the ILAI Fund, for a few consecutive years now, and for that we are grateful.
Dear Looking Beyond LA staff, we want to thank you from the bottom of our hearts for having considered our cause worthy, and for helping us help special children. Thanks to you, a child has a better wheelchair. Another child has hearing aids. Another has been able to go to that expensive speech or hydro therapy. We hope that we still have ahead of us many years of working together and changing the world, one child at a time!
We are honoured to award your organisation the Best Donating Angel award of the year 2019!

Congratulations to our 2017 Best Donating Angels of the year, Iranian American Jewish Federation!
The ILAI Fund and the Iranian American Jewish Federation (IAJF) have cultivated a long friendship for many years. The IAJF's motto is "Caring, Improving and Saving Lives" which is exactly what they have done for the ILAI Fund children and the Israeli society through their longstanding support. Year after year they have approved funding for our miraculous "iCan-iPad" program, through which we seek to provide children with autism with iPads for they're educational and more importantly communication needs. Thanks to IAJF's support we have been able to bestow much needed independence and ability to express themselves to a hundred children with autism. This makes all the difference for the child and for the family.
Dear IAJF staff, we extend our deepest appreciation and gratitude to you for all your hard work to Care, Improve and Save Lives. We hope for many more years of collaboration and successful projects together.
We are honoured to award your organisation the Best Donating Angel and the Honored President price of 2017.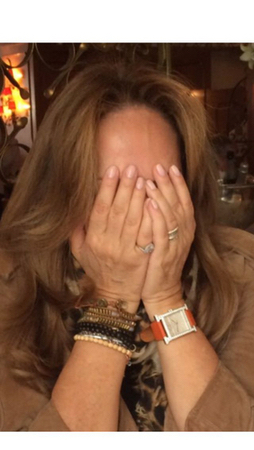 Congratulations to our 2016 Best Donating Angels of the year, a couple from New York who has approved funding for one of our projects in the name of their parents, and wishes to remain anonymous.
These dear Anonymous Donating Angels have been close friends and partners of the ILAI Fund for years, supporting many of the ILAI Fund children through their generous monthly donations. This year they have approved a big donation that was used to improve the lives of many special needs children. Specifically, thanks to their donation, we were able to help families afford much needed medical equipment such as especially fitted wheelchairs for children with cerebral palsy and hearing aids for children with hearing impairment.
Dear Anonymous Donating Angels,
The Talmud speaks about the Eight Degrees of Giving, the most advanced of which are helping someone become self sufficient and giving anonymously. Your generous donation is therefore of a highest degree of giving as it is not only anonymous but has also helped us give children the ability to move more freely and to hear better. We want to extend our deepest gratitude and we are in awe from the goodness we see in all your deeds.
We are honoured to award you the Best Donating Angel and the Honored President price of 2016.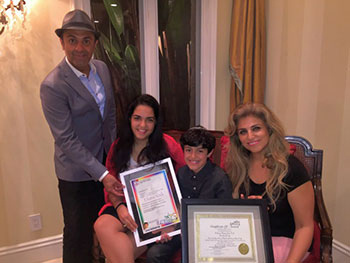 Congratulations to our 2015 honored president and Best Donating Angel of the year Mrs. Mojgan-Ester York. President Mojgan York is a psychologist and marriage therapist and a senior professor at UCLA.
For the past few years, the York family has been an integral and a very important part of the ILAI Fund. Jonathan, Michael and princess Eliana, children of Dr. David and our 2015 President Mojgan York, win this honorary award for being the inspiration and support of the "Eliana York Health and Healing Project", a very special and unique program in collaboration with the ILAI Fund. The project helps support eighteen special needs children with different disorders and serious illnesses and extremely hard life challenges.
Dear York Family,
We are deeply moved by how you practice philanthropy which expresses itself not just by the generous giving of funds but also by literally investing your emotional support for those in need. You are a family who truly loves Israel and its people and serve as an inspiration to us as an organization and certainly to the countless children who have benefited from your kindness. Due to these respectable reasons we honor you with the 2015 ILAI Fund's Best Donating Angels Award.
You are the outright choice to be the Best Donating Angel and the Honored President of 2015.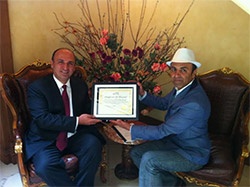 Congratulations to our first award winning family, Mr. Ben and Mrs. Bita Nehmadi and their children Aaron-Mosheh, Evan Yosef and princess Kaayla, of Los Angeles!
On behalf of the Ilai Fund, we are honored to give them the ILAI Award for their charitable work of funding the ILAI Grant Proposal-Summer of 2014 with medical equipment and therapies for tens of sick children with special needs.
The Nehmadi's have been supporting the Ilai Fund for many years and are an integral part of the family.
Ben Nehmadi (Behzad), founder of the Republic Investment Company in New York and Los Angeles, is a person with strong work ethic and has a great thirst for education and faith to get a strong foothold in the real estate market.
"When I reconnected with Albert 8 years ago and heard about his work with sick children in Israel, I knew that I wanted to do what I could to help them." Says Ben.
The Nehmadis keep up to date with the work of the organization during their annual visit to the Holy land for the bar mitzvah celebrations of their two sons.
Behzad and his wife Bita's financial support come with kindness, devotion, love and tremendous care for our children!
These are just a few of the reasons we would like to honor them with The 2014 ILAI Fund's Best Donating Angels award.
We are so proud to have them as the Best Donating Angels of 2014!